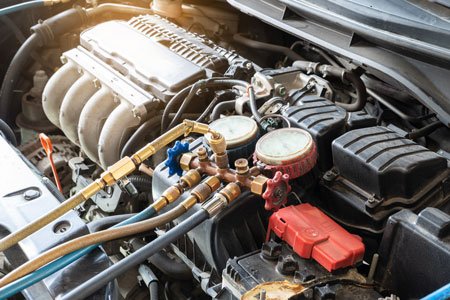 Are you in the Clovis or Fresno area and in need of air conditioning and cooling systems work on your vehicle? The ASE-Certified auto mechanics at Dick's Automotive in Clovis have what it takes to quickly and effectively address any air conditioning or cooling system auto repair needs you may experience.
Air conditioning and cooling systems are very complex. Engine blocks, heads, miscellaneous plumbing, thermostat, radiator, hoses…we could go on. Just know that the extensively trained and experienced auto mechanics at Dick's know the ins and outs of your air conditioning and cooling systems. We are diagnostic and repair experts, whether you bring in your domestic or your foreign automobile.
You air conditioning and cooling systems maintenance and repairs are in good hands with the team at Dick's Automotive. We care about you and the life of your vehicle. Not only that, but our technicians receive extensive annual training to keep them cutting edge when it comes to your air conditioning and cooling systems as well as just about any other auto repair issue you can throw our way! Check out what one of our happy customers had to say about his experience with Dick's Automotive:
"We were impressed with every area of service, employees are friendly and helpful. Quicker return of our car than we expected. Prices were good. We will recommend Dick's to any one we know." — Wayne H.
When you drive your vehicle into Dick's Automotive, you can expect a friendly reception from our entire team of dedicated auto repair professionals. Your vehicle is in good hands with us and while we have a lovely waiting room with drinks and snacks, we do everything we can to get you where you need to go. For the fastest air conditioning and cooling systems service, make an appointment online today! You can find us at 1550 Tollhouse Road in Clovis. We're open Monday through Friday from 7:30 A.M. until 5:00 P.M. See you soon!
Need Help With Your Vehicle?
We'll get it running
We specialize in everything auto repair. We take pride in our work, call us today!
APPOINTMENT
CONTACT US