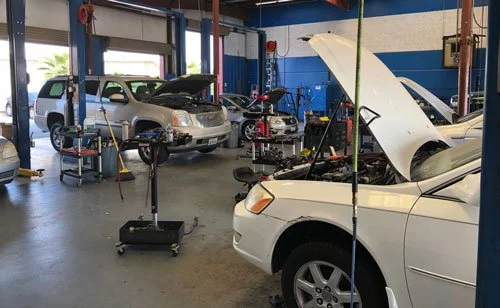 When looking for auto repair near or in Clovis, CA come to Dick's Automotive where we work on all vehicles no matter the make or model. Our knowledgeable technicians will walk you through our process step by step to make sure you, the driver, have all the information you need to make the best decision for your vehicle. We know that repairing your car, truck or SUV is not on your fun things to do list but there are times when it becomes necessary.
Here at Dick's Automotive our goal is to take the stress out of automotive repair and maintenance. If you come into our shop with a specific repair in mind or just know that your vehicle is not performing as well as it should, we have the solution for you. Check Engine Lights also known as malfunction indicator lights can be troubling for drivers. Not to worry, we have the tools and personnel to quickly diagnose any issue that might have caused the light to come on. It can even be as simple as a loose gas cap.
That being said, our customer's satisfaction is our number one priority. We never suggest a repair or maintenance service that is not needed. We instead give you an idea of the current condition of your vehicle. From here we can provide you with a maintenance schedule that will give you an idea of the items that should be addressed and when.
Auto Maintenance in Clovis, CA
Automotive maintenance services or preventative maintenance is aimed at making sure that your vehicle spends less time in a garage and more time on the road. Adhering to a maintenance schedule can also help prevent hazardous roadside breakdowns or being stuck with a vehicle that won't start.
If it has been a while since you've had your oil changed or your vehicle inspected by a professional technician, come on by Dick's Automotive. We have a comfortable waiting room and communicated clearly with our customers. Let us know anytime you notice an issue while driving your vehicle and we'll take care of it.
Here at Dick's Automotive in Clovis, our auto repair technicians have a deep understanding of quality repair and service. Our auto mechanics often see clients or would-be clients arguing that they can buy a part cheaper on the Internet. Now that nearly everyone has an internet connection, roughly everyone is shopping online for parts!
We completely understand that you don't want to pay ten times the price for something if you can find it online for cheaper. We do. But at Dick's Automotive, we also know that you get what you pay for. This is especially true if you want high-quality repair and service.
Recently at our Clovis shop, a customer asked us to explain something to him. This particular customer found a part cheaper ($1,000 less) somewhere else. Grant explained that we are all looking at the same potential resources, and he was aware there were cheaper parts, but the customer needed to realize that the less expensive parts are not good quality. He didn't think that the cheaper part was the right part. When they did locate the correct part, the price was very similar to the one we ended up using. In the long run, the better parts will last longer and be less expensive. High-quality repair and service can cost more in the short term, but in the long term, your vehicle will last longer.
At Dick's Automotive in Clovis, our auto repair technicians only use top-quality original equipment parts. Original equipment parts are less likely to break down. They fit better and give us better results. If we are spending nine hours fixing your vehicle, we want to use the best parts; we don't want to have to do that repair again because of a bad part. Of course, you can find cheaper parts on the internet, but if you want good quality repair and service, you're also paying for the expertise of your auto technician and the higher quality parts we use.
Another thing that differentiates Dick's Automotive from other shops in Clovis and Fresno is that we have digital inspections. Digital inspections hold us accountable since you can see exactly what's being done to your vehicle. Our auto repair technicians can get your approval and finish servicing your car more quickly. You can pick and choose which services you want. Digital inspections are another example of quality repair and service.
What are our clients in the Clovis area saying about Dick's Automotive? Here's a rave review from one of our happy customers:
"SHOUT OUT to DICKS AUTOMOTIVE!!! Grant & Larry and the crew! I have been going to them for years!!! I kept hearing a noise with my brakes. Some of the repairs probably were under warranty. After they checked it out they were going to let me know what I would want to do. Fortunately there was nothing wrong and I walked away paying $54.00 (to check it out) rather than going immediately to the dealer and them saying you need new this new that and poof over $1000.00 gone! You see I had that experience before at the dealer…so very gun shy about doing anything at the dealer. This is just my experience! But I wanted a shout out because Dicks Automotive is honest…trustworthy…won't do something unless it needs to be done and do not over charge you!" — Dawn B.
Give us a call or schedule an appointment online for a day and time that is most convenient for you!
Need Help With Your Vehicle?
We'll get it running
We specialize in everything auto repair. We take pride in our work, call us today!
APPOINTMENT
CONTACT US