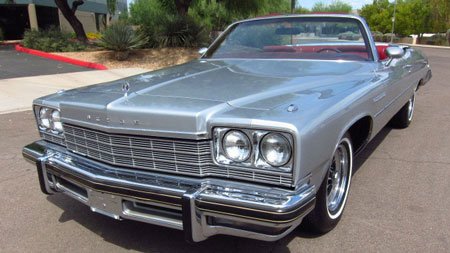 When Buick drivers need auto repair in Clovis and Fresno, they turn to the auto mechanics at Dick's Automotive. Our technicians are ASE-Certified and will identify the underlying cause of what is going on with your Buick, so you can get back on the Clovis and Fresno streets in no time.
You see your vehicle leaking or making an odd noise, and your heart starts to beat just a little faster. If you notice something doesn't seem right with your Buick, don't hesitate to bring your Buick to a qualified technician. The moment you start to worry, bring your Buick to our auto repair shop, and our team will get right to work, thoroughly inspecting your vehicle to figure out what is going on.
Because we recognize how much you rely on your Buick, we make sure to keep you updated throughout the entire process. And our 3-year/36,000-mile warranty is a testament to the quality and reliability of our Buick service and repair. But don't just take our word for it. Clovis and Fresno drivers are leaving us honest and heartfelt reviews. Here is a recent 5-star review from one of our happy customers who continues to choose Dick's Automotive for auto repair:
"New the area & a single woman I was apprehensive about finding a trustworthy mechanic who is also a good mechanic! A friend recommended Dick's in Clovis. I've been there twice…both experiences were great & my tuneup was less expensive than the estimate! That left me w/ my mouth open!! I had never had that happen before!!They mgr is very helpful & explains everything they may need to do. I really appreciate their great communication…no surprises. They're fees are pretty much mid range…not cheap & not expensive. I received great, friendly, HONEST, affordable care/service. I have recommended them to others & know I can trust them w/ my future auto repair needs.If you're looking for great auto care I highly recommend Dick's in Clovis on Tollhouse. Oh, almost forgot…they keep drinks stocked in fridge in waiting room! Great customer care…" — Lynn T.
If you are looking for an auto repair shop in Clovis and Fresno, you are in the right place. Dick's Automotive adheres to a strict code of ethics, so you can expect to receive honest and accurate service for your imported or domestic vehicle. Schedule an appointment for Buick service at Dick's Automotive today. We are conveniently located at 1550 Tollhouse Road in Clovis, CA.
Need Help With Your Vehicle?
We'll get it running
We specialize in everything auto repair. We take pride in our work, call us today!
APPOINTMENT
CONTACT US