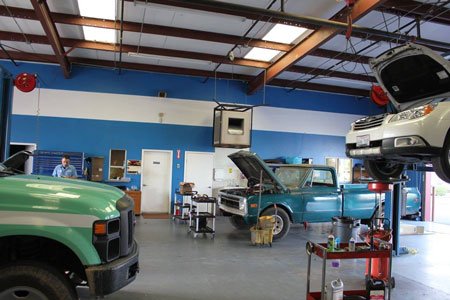 Dick's Automotive recognizes the importance of maintenance and tune-ups. If you are a Clovis and Fresno driver, our auto mechanics are here to help you take good care of your car. From regular maintenance and tune-ups to major auto repairs, our team is the leading choice for families throughout Clovis and Fresno.
Your car is one of your largest investments, only second to your home. It makes sense that you would want to protect such an important investment, and routine maintenance and tune-ups are an excellent way to go about doing so. At Dick's Automotive, our team will perform a thorough inspection of your vehicle, keeping an eye out for any signs of wear or damage. Your maintenance and tune-ups are critical to the long-term safety of your vehicle.
This way, we can preserve the longevity of your vehicle, regardless of the make or model. We are so proud of the stellar reputation our auto mechanics have earned for top-notch maintenance and tune-ups. Take a look at this recent 5-star review from one of our happy customers:
"Have been with Dicks Automotive for over 30 years and would never go anywhere else. Great customer service, reliable, trustworthy and great service on my car." — Gina K.
When it comes to the auto repair of your vehicle, don't wait until it's too late, and tune-ups at certain intervals, including 7,500, 15,000, 30,000, 60,000, 90,000, and 120,000, are an excellent way to keep the condition of your vehicle in check. If you can't remember the last time your vehicle saw the inside of an auto repair shop, we would say it's time to head on over to the auto mechanics at Dick's Automotive for a tune-up, as the go-to auto repair shop for both Clovis and Fresno drivers.
You can think of our auto mechanics as car doctors and our tune-ups as physicals. Just like how you need to go to the doctor's for check-ups, your car does too. And our technicians are experienced and educated in servicing and repairing virtually all makes and models of vehicles, whether you are driving a Ford or Honda. All vehicles, no matter how dependable, need tune-ups.
Your vehicle will need certain services at different mileage points. For example, at one visit to Dick's Automotive, your car's fluids may need to be flushed, and at the next appointment, your car may need to have their tires changed. We recommend following this tune-up schedule, bringing your vehicle into our shop at these intervals:
+ 7,500
+ 15,000
+ 30,000
+ 60,000
+ 90,000
+ 120,000
If you are looking for an auto repair shop in Clovis and Fresno, you are in the right place. Dick's Automotive adheres to a strict code of ethics, so you can expect to receive honest and accurate service for your imported or domestic vehicle. Schedule an appointment with our auto technicians for tune-ups at Dick's Automotive today. We are conveniently located at 1550 Tollhouse Road in Clovis, CA.
Need Help With Your Vehicle?
We'll get it running
We specialize in everything auto repair. We take pride in our work, call us today!
APPOINTMENT
CONTACT US