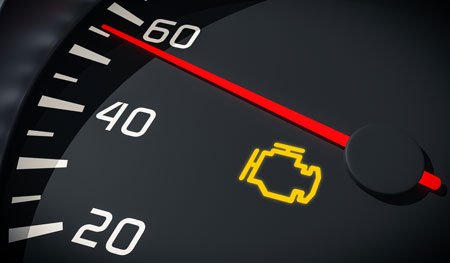 Not the dreaded check engine light! It's a good thing for vehicle owners in the Clovis and Fresno areas that Dick's Automotive has some of the best ASE-Certified auto mechanics in the auto repair industry. We know how to get to the bottom of a check engine light problem. Dick's Automotive is proud of just how successful we are with computer diagnostics.
At Dick's Automotive in Clovis, our auto mechanics receive extensive ongoing annual training and have the tools, equipment, and technology to put that education and experience to work for you and your vehicle. When your check engine light glows on your dash, it's definitely a sign that something is amiss. Keep in mind, however, that it could be something as minute as a loose gas cap to something far more extensive. The best bet is to always have that check engine light diagnosed because you'd hate for a minor repair to end up being a huge repair because you didn't address it right away.
When you are looking for an auto repair facility with integrity and extensive know how to get to the real reason your check engine light is on without EVER suggesting unnecessary work, Dick's Automotive has your back. Take a peek at one of our wonderful reviews from a happy and loyal customer:
"SHOUT OUT to DICKS AUTOMOTIVE!!! Grant & Larry and the crew! I have been going to them for years!!! Today again I proved why! I kept hearing a noise with my brakes. Some of the repairs probably were under warranty. After they checked it out they were going to let me know what I want to do. Fortunately there was nothing wrong and I walked away paying $54.00 (to check it out) rather than going immediately to the dealer and them saying you need new this new that and poof over $1000.00 gone! You see I had that experience before at the dealer…so very gun shy about doing anything at the dealer. This is just my experience! But I wanted a shout out because Dicks Automotive is honest…trustworthy…won't do something unless it needs to be done and do not over charge you!" — Dawn B.
When you drive your vehicle into Dick's Automotive, you can expect a friendly reception from our entire team of dedicated auto repair professionals. Your vehicle is in good hands with us and while we have a lovely waiting room with drinks and snacks, we do everything we can to get you where you need to go. For the fastest check engine light service, make an appointment online today! You can find us at 1550 Tollhouse Road in Clovis. We're open Monday through Friday from 7:30 A.M. until 5:00 P.M. See you soon!
Need Help With Your Vehicle?
We'll get it running
We specialize in everything auto repair. We take pride in our work, call us today!
APPOINTMENT
CONTACT US