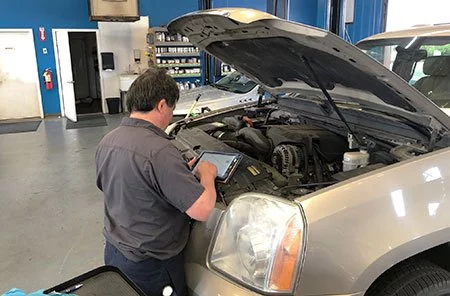 In the world of computer diagnostics, not every auto repair shop in the Clovis and Fresno area is created equal. The team of highly experienced and trained ASE-Certified auto mechanics at Dick's Automotive want to be your go-to experts when it comes to foreign and domestic computer diagnostics.
We pride ourselves in having all the latest and greatest computers, technology, and tools to be able to provide our wonderful customers with highly accurate computer diagnostics for their valuable vehicles. Dick's Automotive leads with skill, integrity, and hard work. You will have peace of mind knowing that your vehicle's computer diagnostics are in the hands of such trustworthy and experienced auto technicians.
When it comes to diagnosing funny sounds, smells, or dash lights, we are there for you and it shows in 5-star reviews like this one:
"Larry, Grant and the men continue to give our family confidence when it comes to automobile repair. I brought in my daughter's Saturn Vue with a mystery noise in the front end. The problem was diagnosed and repaired and… it didn't cost me next month's mortgage. I really appreciate their open and honest attitude when discussing what really needs to be done to fix our vehicles. Drive on over and give them a try, you will not be disappointed." — Clarence M.
When you drive your vehicle into Dick's Automotive, you can expect a friendly reception from our entire team of dedicated auto repair professionals. Your vehicle is in good hands with us and while we have a lovely waiting room with drinks and snacks, we do everything we can to get you where you need to go. For the fastest foreign and domestic computer diagnostics, make an appointment online today! You can find us at 1550 Tollhouse Road in Clovis. We're open Monday through Friday from 7:30 A.M. until 5:00 P.M. See you soon!
Need Help With Your Vehicle?
We'll get it running
We specialize in everything auto repair. We take pride in our work, call us today!
APPOINTMENT
CONTACT US