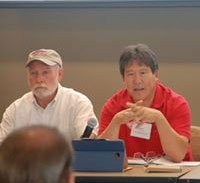 It's no secret that there's a big shortage of techs across the country, and that is why Grant is working with Duncan Polytech High School vocational / automotive programs — Portfolio Day is a day where they do mock-interviews with students and speak with the students about the auto repair industry.
At Dick's Automotive, we believe a career in automotive services is extremely beneficial. If you think about how many cars there are on the roads in Clovis and Fresno, let alone the entire United States, it seems as if you would never be out of a job. If you love to problem-solve, work with your hands, and navigate electronic systems, a career in automotive services may be for you. Because of the shortage in the automotive industry, there is a serious need for technicians.
For our auto technicians at Dick's Automotive, they are faced with a new challenge each day. No day is the same, as they solve even the trickiest problems on the most complex of vehicles. Using some of the most cutting-edge technology in the industry, they play an important part in keeping the streets in Clovis and Fresno safe.
Grant Takikawa, the owner of Dick's Automotive, works with a local high school automotive program. He participates in career planning and is available to answer any questions you or your aspiring son or daughter may have about beginning a career in automotive services.
The auto mechanics at Dick's Automotive are ASE-Certified technicians, but what exactly does that mean? It means that Clovis and Fresno drivers can expect to receive a level of service that will meet and exceed all their expectations for an auto repair shop. We are committed to keeping you and your family in a safe and secure car, and ensuring our auto mechanics receive all the necessary training, including ASE certification, is just one way we go about doing so.
ASE stands for the Automotive Service Excellence, and that's what you can expect to receive when you visit our shop for auto repair. In order to become an ASE-Certified auto mechanic, you have to obtain experience and education relevant to the automotive industry, and after you do that, you have to pass an exam, designed to test your knowledge as a technician. Our auto mechanics are ASE-Certified, which means they obtained the necessary experience, education, and have passed their exam.
Need Help With Your Vehicle?
We'll get it running
We specialize in everything auto repair. We take pride in our work, call us today!
APPOINTMENT
CONTACT US