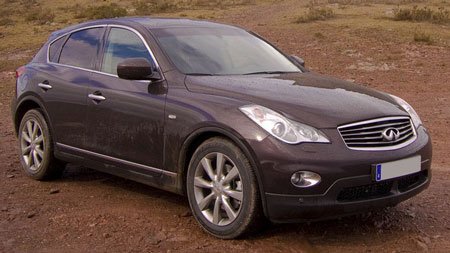 If you're an Infiniti driver in the Clovis and Fresno area, you might be looking for an expert auto repair shop that will take great care of your Infiniti. If this describes you, the ASE-Certified auto mechanics at Dick's Automotive want to meet you! Our team believes in treating our customers with respect, creating long-lasting relationships, and educating them about what needs to be repaired right away and what can wait. Isn't that what you want from your auto repair shop?
Infiniti is most definitely a luxury brand. But even though you drive a luxury vehicle, you still want to get what you pay for when it comes to finding an auto repair shop to service and repair your Infiniti. If you are searching for an expert team of skilled mechanics to work on your Infiniti in a location that is convenient to Clovis and Fresno, look no further than our team at Dick's Automotive.
At Dick's Automotive, we use state-of-the-art, factory-level tools and equipment to inspect, service, and repair the vehicles of our customers in the Clovis and Fresno area. Plus, we back our work with a 3-year/36,000-mile warranty. We are also proud to be a Bosch Service Center for the Clovis and Fresno area. We want you to leave our auto repair shop satisfied with our work on your Infiniti and knowing what we did and why. Our focus is on your satisfaction–we care about everything you experience, from when you arrive to when you leave. That's why we strive to communicate clearly and work with you to decide what repairs and services should be done on your car. Owner Grant Takikawa has made it one of his life's goals to encourage people to learn about their cars and make the decisions that are in line with their financial goals. He would love to sit down with you to go over your inspection results so you can will feel fully confident in deciding what work we will do on your Infiniti.
Here's one of our many five-star reviews from a happy customer:
"very pleased with the service that they offer, prices are very competitive. they really take care of their customers here." — Nick T.
Please contact us at Dick's Automotive if your Infiniti needs service or repair. We're located at 1550 Tollhouse Road in Clovis, CA. Our team of ASE-Certified auto mechanics at Dick's Automotive is ready to service your Infiniti so you can get back on the Clovis and Fresno roads. We look forward to your visit and to offering you exceptional service!
Need Help With Your Vehicle?
We'll get it running
We specialize in everything auto repair. We take pride in our work, call us today!
APPOINTMENT
CONTACT US