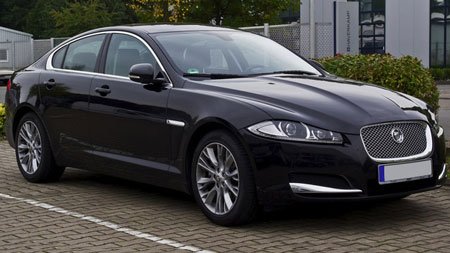 Do you love your Jaguar? If you live in the Clovis and Fresno area, we invite you to bring it in for service and repair at Dick's Automotive because we are a trustworthy auto repair shop with expert ASE-Certified auto mechanics who are eager to take great care of you and your Jaguar.
Jaguar drivers enjoy a superior driving experience. Many people consider Jaguars to be the pinnacle of luxury. If you drive a Jaguar in the Clovis and Fresno area, you need a skilled and trustworthy auto mechanic who will treat your Jaguar with the care it deserves. At Dick's Automotive, we offer Jaguar drivers in the Clovis and Fresno area the excellent experience they have come to expect.
If you are searching for expert Jaguar service convenient to Clovis and Fresno, we're confident you've found it in the auto mechanics at Dick's Automotive. We use state-of-the-art, factory-level tools and equipment to inspect, service, and repair your Jaguar. We have an outstanding 3-year/36,000-mile warranty on the work we do for you. Our waiting room and bathroom were recently remodeled, and our customers really love it. Our emphasis on education means we are continually improving our knowledge base. We have all the latest and greatest high-tech gadgets to work on your Jaguar. Not only that, but we're involved in the community, too. Our owner, Grant Takikawa, works with local schools and participates in career planning for kids, which we think is pretty cool! We truly believe that you won't find a better qualified, more efficient, or more trustworthy auto repair shop in the Clovis and Fresno area.
But you don't just have to take our word for it; take a look at this recent review from one of our many satisfied long-term customers:
"All around awesome, excellent service! The customer service associate was a pleasant gentleman named Larry, who was very informative regarding my vehicle repairs, its associated costs, and other potential problems to keep in mind that were found during the repair. His attitude was very professional yet amiable, and through our discussions of my vehicle he displayed a very respectable degree of knowledge and experience. The repair costs were fair, my car is running like new, and J haven't had any problems since! I have the impression that their mechanics are top-notch professionals able to work on almost any vehicle of any make, and were the only repair service I could find locally who could repair my Jaguar. I am very satisfied with their service and they are number one on my list should to consult with should I need additional repair services in the future. I highly recommend Dick's Automotive for anyone who needs or wants reliable, professional, and top-quality service, particularly if your vehicle is rare or foreign, or if it requires special attention." — 1 Blasfimus W.
Please contact us at Dick's Automotive if your Jaguar needs service or repair. We're located at 1550 Tollhouse Road in Clovis, CA. Our team of ASE-Certified auto mechanics at Dick's Automotive is ready to service your Jaguar so you can get back on the Clovis and Fresno roads. We look forward to your visit and to offering you exceptional service!
Need Help With Your Vehicle?
We'll get it running
We specialize in everything auto repair. We take pride in our work, call us today!
APPOINTMENT
CONTACT US