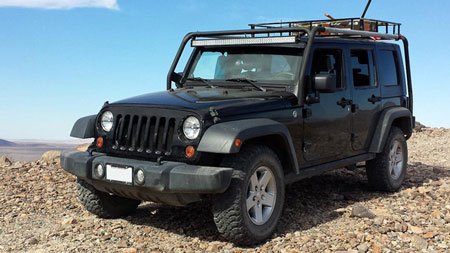 Do you drive a Jeep, live or work in the Clovis and Fresno area, and been searching for a trustworthy auto repair shop to service and repair your Jeep? Well, we have great news because Dick's Automotive in Clovis is a locally-owned auto repair shop with a great team of ASE-Certified auto mechanics that are happy to serve you and your Jeep!
Jeep drivers love their vehicles. Jeeps appeal to people who enjoy adventure and freedom. But a Jeep needs to be properly maintained just like any other vehicle. To keep yours running the way it should, and to keep you and your family safe on the roads of Clovis and Fresno and points beyond, it's important to have your Jeep serviced by a trustworthy auto mechanic like the ones at Dick's Automotive.
Why would you bring your Jeep to Dick's Automotive? Well, Jeep drivers tend to be adventurous and enjoy lots of road trips. We live in Clovis, the "gateway to the Sierras." If you enjoy taking your Jeep on adventures throughout Clovis and Fresno and parts beyond, you need a vehicle you can count on. We have the high-tech tools to repair and service anything that goes wrong with your Jeep. We keep up with our education so you don't have to. In addition, we have a shuttle and loaner cars for your convenience. Also, our waiting room and bathroom have been recently remodeled for your comfort. And we give back to our local community by talking at local schools about the automotive industry and careers.
Dick's Automotive wants to be your trusted source for Jeep repair and service in Clovis and Fresno. We are confident that there isn't a better auto repair shop in the Clovis and Fresno area for you and your Jeep.
If you don't believe us, here's a five-star review from one of our satisfied customers:
"First time coming here. No complaints. Staff was friendly. Shop clean. Price was fair. Got the job done in quick time. They made some recommendations on maintenance with no pressure to get done immediately. I got a transmission flush/filter done along with a brake fluid flush and new belts put on." — Justin M.
Please contact us at Dick's Automotive if your Jeep needs service or repair. We're located at 1550 Tollhouse Road in Clovis, CA. Our team of ASE-Certified auto mechanics at Dick's Automotive is ready to service your Jeep so you can get back on the Clovis and Fresno roads. We look forward to your visit and to offering you exceptional service!
Need Help With Your Vehicle?
We'll get it running
We specialize in everything auto repair. We take pride in our work, call us today!
APPOINTMENT
CONTACT US