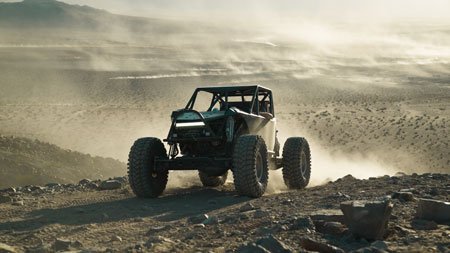 Off Roading is a great hobby and a lot of our customers like to take advantage of the terrain we have available here in California. Anytime you are looking for Rock Crawler repair near or in Clovis, CA come to Dick's Automotive where we have a passion for repairing and maintaining your Off Road vehicle. No matter the type of Rock Crawler you drive, we know you demand a lot from it and we want to make sure that you are ready to tackle the aggressive terrain.
From bumpers, suspension to deep tread tires we are here to maintain your Rock Crawler and keep it performing at its best. Our customers also need a lot of torque to get over boulders and rock piles so be sure to let us know if you've noticed a drop in performance and we can get your Rock Crawler back to tackling off road terrain in no time.
Rock Crawler Maintenance in Clovis, CA
Does your 4×4 vehicle require service and repair? If yes, visit Dick's Automotive, which proudly serves the Clovis and Fresno area with top-notch auto repair. You can count on our auto technician team to have principles, ethics, honesty, and high-quality 4×4 maintenance service. It's about value, not money. Our team does its best to educate our 4×4 customers about the extra value we offer beyond auto repair.
We have skilled and knowledgeable auto technicians on our team who also own 4×4 trucks and are Rock Crawler enthusiasts. If you use your gasoline or diesel powered 4×4 vehicle for rock crawling, dune buggying, trailer hauling, and camping, Dick's Automotive is your best choice for 4×4 service and repair. The chances are high that if you're out four-wheeling near Pismo Beach, our techs are out there crawling over the rocks with you.
At Dick's Automotive, we know that our Clovis and Fresno customers put a lot of money into their gas-powered or diesel engine 4×4 trucks. Rock crawling is fun, and if you want your 4×4 vehicle to be able to take the brutal knocks of this hobby, you need to maintain it with regular service and repair. Do yourself a favor and protect your investment by bringing your 4×4 truck to Dick's Automotive. Here's what one customer had to say about his customer service experience:
"Dick's was referred by Doug @ AAA Automotive repair, who didn't have part. Thanks to Doug's research he recommended Dick's who jumped on my emergency, gas squirting out of pressure line on hot engine. Dick's was extremely fast and did great job." — Michael C.
These vehicles are often heavily modified. It is important that you bring your Rock Crawler to the right shop. Dick's Automotive is highly passionate and trained when it comes to repairing or maintaining your Rock Crawler. Often times our customers bring in Jeeps or Buggy's but we can work on any vehicle you take off roading. It can be an exhilarating and rewarding activity but you should always make sure that your vehicle is ready to handle the obstacles.
After we perform a quick inspection of your Rock Crawler we can offer a maintenance schedule that fits you and your vehicle. This is determined by the current condition of your vehicle and your driving habits. Is your Rock Crawler also your daily driver? If so regular oil changes can be the most cost effective and efficient way to maintain your vehicle.
If you only drive your Rock Crawler for weekend excursions or planned trips, then bring it to us before you head out and we'll make sure it can handle whatever you're preparing to throw at it. We want to make sure that our customers are driving vehicles that will keep them safe and remain reliable. This is especially important where off roading is concerned. Let us help you be confident that you can make it back to civilization anytime you want to make a trip far from it.
Give us a call or schedule an appointment online before your next trip and we'll get you ready!
Need Help With Your Vehicle?
We'll get it running
We specialize in everything auto repair. We take pride in our work, call us today!
APPOINTMENT
CONTACT US