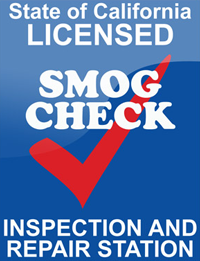 Are you looking for auto technicians who can provide accurate and reliable smog testing? Look no further than Dick's Automotive. Along with offering excellent auto repair to drivers throughout Clovis and Fresno, our shop is a certified smog emission station. Because we want to be your leading auto repair shop for smog testing and repair, our team aims to exceed your expectations.
If your check engine light is on, there's a strong possibility that your vehicle requires smog testing and repairs. Because over 100 codes could be the cause of that flash on your dashboard, it's crucial for our auto technicians to perform a diagnostic check. While our auto technicians are diligently working, we welcome you to hang out in our comfortable waiting area, have some coffee, and use the free WiFi. If the smog testing and repair takes a little longer, we're happy to offer you use of our complimentary shuttle services. If you would prefer an Uber, we also have you covered! Once you enter our facilities at Dick's Automotive, you'll notice right away that we aim to please.
Here's a recent 5-Star review from one of our happy customers from the Clovis and Fresno region:
"New to the area & a single woman. I was apprehensive about finding a trustworthy technician who is also a good technician! A friend recommended Dick's in Clovis. I've been there twice…both experiences were great & my tuneup was less expensive than the estimate! That left me w/ my mouth open!! I had never had that happen before!! The manager is very helpful & explains everything they may need to do. I really appreciate their great communication…no surprises. Their fees are pretty much mid-range…not cheap & not expensive. I received great, friendly, HONEST, affordable car service. I have recommended them to others & know I can trust them w/ my future auto repair needs. If you're looking for great auto care I highly recommend Dick's in Clovis on Tollhouse. Oh, almost forgot…they keep drinks stocked in a fridge in the waiting room! Great customer care…" — Lynn T.
Please contact us at Dick's Automotive if your car needs smog testing and repair services. We're located at 1550 Tollhouse Road in Clovis, CA. Our team of ASE-Certified auto technicians at Dick's Automotive is capable and ready to perform smog testing and repair services so you can get back on the Clovis and Fresno roads. We look forward to your visit and offering you exceptional service!
Need Help With Your Vehicle?
We'll get it running
We specialize in everything auto repair. We take pride in our work, call us today!
APPOINTMENT
CONTACT US