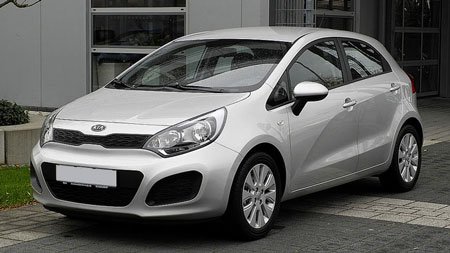 Kia Rio 1.4 CVVT Edition 7 (UB) by M 93, used under CC BY 2.0[/caption]
Do you drive a Kia in the Clovis and Fresno area and have you been searching for a trustworthy auto repair shop to repair and service your Kia? The ASE-Certified auto mechanics at Dick's Automotive want to meet you!
Kia vehicles are reliable and offer great quality and performance. In fact, Kia topped the list of brands in the 2017 Initial Quality Study from J.D. Powers and Associates. Kia has come a long way since the early 2000s when its vehicles were branded unreliable. Those days are over! If you drive a Kia, you want an auto mechanic who is just as reliable to work on it. We hope you'll consider Dick's Automotive if you're a Kia driver in the Clovis and Fresno area.
Dick's Automotive wants to be your trusted source for Kia repair and service in Clovis and Fresno. Our auto mechanics are experienced, educated, and equipped with the latest and greatest tools and technology. We stand behind our work with a 3-year/36,000-mile warranty. We are also proud to be a Bosch Service Center. We want you to leave our auto repair shop satisfied with our work on your Kia and knowing what we did and why. We want you to be safe in your Kia as you drive the roads of Clovis and Fresno. Education and communication are critically important to us. We will explain to you the "what, why, and how" of everything we do. We recognize that auto repair lingo can sound like a foreign language. That's why we won't talk down to you when we explain the issues with your Kia. For you to make educated decisions about your Kia, based on both your lifestyle and budget, you need to know what is going on. Our goal is to educate you about your car.
We are proud to share this five-star review from a satisfied customer:
"SHOUT OUT to DICKS AUTOMOTIVE!!! Grant & Larry and the crew! I have been going to them for years!!! Today again I proved why! I kept hearing a noise with my brakes. Some of the repairs probably were under warranty. After they checked it out they were going to let me know what I want to do. Fortunately there was nothing wrong and I walked away paying $54.00 (to check it out) rather than going immediately to the dealer and them saying you need new this new that and poof over $1000.00 gone! You see I had that experience before at the dealer…so very gun shy about doing anything at the dealer. This is just my experience! But I wanted a shout out because Dicks Automotive is honest…trustworthy…won't do something unless it needs to be done and do not over charge you!" — Dawn B.
Please contact us at Dick's Automotive if your Kia needs service or repair. We're located at 1550 Tollhouse Road in Clovis, CA. Our team of ASE-Certified auto mechanics at Dick's Automotive is ready to service your Kia so you can get back on the Clovis and Fresno roads. We look forward to your visit and to offering you exceptional service!
Need Help With Your Vehicle?
We'll get it running
We specialize in everything auto repair. We take pride in our work, call us today!
APPOINTMENT
CONTACT US