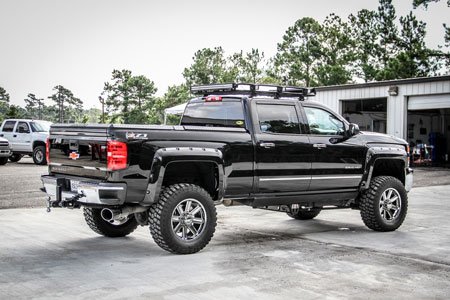 Lift kits or suspension lifts are great for off roading vehicles or you might want to do it for aesthetic purposes. Here at Dick's Automotive we know how to repair and maintain lifted trucks. You want to make sure that you bring your lifted truck to the right shop because there are a lot of peripheral items that can be affected once your truck is lifted. You might notice a decrease in power or miles per gallon. Let us know what issues have been negatively impacting your driving experience and we'll be more than happy to go over the solutions with you.
If your lift kit was put in an older vehicles that might be some front end components that need to be double checked to make sure they can handle the new suspension system. Problems could arise from parts wearing out that were not included in your lift kit but were part of your previous front end system. No problem, we have the tools, knowledge and know how to quickly diagnose and repair your vehicle.
Lifted Truck Maintenance in Clovis, CA
Maintaining your lifted truck is much like any other vehicle, you want to monitor fluid levels, especially your engine oil. Because your vehicle has been modified beyond factory specs we can propose a maintenance schedule that works for you and your truck. Regular oil changes and visual inspections are still going to be the most cost effective and efficient way to keep your truck in good repair no matter the make or model.
Our goal here at Dick's Automotive is to make sure that your vehicle gets your from point A to point B with or without a paved road. We start with an initial vehicle inspection and are sure to address the concerns that brought your vehicle to our shop in the first place. We never recommend any unnecessary service or repair and want to get you back on the road or open terrain as quickly as possible. Let us know if you've experienced any issues while operating your truck and we will go over every possible solution with you.
Ford Powerstroke Clovis, CA
In case you didn't realize, Dick's Automotive in Clovis has a team of auto repair experts who are technically savvy and can service your Ford Powerstroke. Our auto mechanics would love to have you bring your Ford Powerstroke vehicle into our shop. We have all the latest equipment plus the expertise you need to service your diesel engine and get you back on the road ASAP.
You love your Ford Powerstroke vehicle, and our auto repair technicians understand why. After all, the Ford F150 has been named the most famous American car of its kind…in the world. The Ford Powerstroke is popular for lots of reasons, and its popularity continues unabated. Although The Ford Powerstroke is a dependable workhorse, it still needs service and maintenance from time to time. Yes, it's a big bruiser of a truck, but even big bruisers need attention sometimes. That's why the auto technicians here at Dick's Automotive in Clovis recommend that you and your Ford Powerstroke come in for a visit.
Why would you bring your Ford Powerstroke to Dick's Automotive? We live in Clovis, the "gateway to the Sierras." We're also the home to people who farm as well as those who need a truck to haul various things. No matter why you have a Ford Powerstroke, you need a dependable and reliable vehicle. Your vehicle can't stop running while you're on the way to Kings Canyon or out to the farm to work. We have the high-tech tools to repair and service anything that goes wrong with your Ford Powerstroke. We keep up with our education, so you don't have to. Also, we have a shuttle and loaner cars for your convenience. Also, our waiting room and bathroom have been recently remodeled for your comfort. And we give back to our local community by talking at local schools about the automotive industry and careers.
Give us a call or schedule an appointment online for a day and time that works best for you. Our customers' satisfaction is our number one priority. We want to communicate clearly with our customers so you can make the best decision when it comes to repairing or maintaining your truck.
Need Help With Your Vehicle?
We'll get it running
We specialize in everything auto repair. We take pride in our work, call us today!
APPOINTMENT
CONTACT US