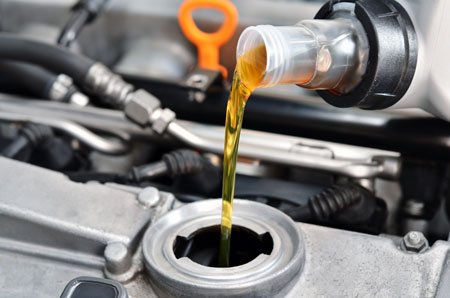 Oil change service may not be on the top of your list of things to do and that's why it can get neglected. But the team of highly trained ASE-Certified auto mechanics at Dick's Automotive in Clovis (also serving Fresno!) know that quality auto repair really starts with quality auto maintenance. Oil change service is valuable and well worth your time and energy as it has the power to extend the quality of life of your vehicle. It can also help protect your engine and keep you from having to face a large auto repair bill. Yikes! No one likes that. No one.
Are you in search of oil change service in the Clovis and Fresno area? When you bring your vehicle into the professional team at Dick's Automotive, we will keep you comfortable in our nice waiting room and provide you with snacks and drinks while you wait for us to complete your oil change service. You can count on us for speedy service, but more importantly for quality service under the hood and across the counter. We value our customers in Clovis and Fresno (and beyond!) and know the importance of building relationships. That's why we take our time listening to what you have to say and in explaining whatever issues we find. We don't usually find much with an oil change, but we're always on the lookout for your safety and anything that could impact the drivability of your car.
Dick's Automotive has been providing quality oil change services since 1971. We started out with an ethic of hard work and integrity that continues today. This is what one of our valued customers has to say about us and we are grateful for every word!
"Diagnosis of problem was prompt, repair was quick and service was courteous as always." — Diane C.
Oil Change in Clovis, CA
Whenever you are searching for a quick and convenient oil change solution near or in Clovis, CA come to Dick's Automotive. We offer a great and quick solution when it comes to getting your oil changed. This is one of the most basic and common regular maintenance services and a great way to get to know us. Our regular customers have known the excellent service that we provide. Customer satisfaction is our number one priority and we can show you an excellent level of service with just an oil change.
The oil in your engine serves several purposes. It lubricates and protects the moving components inside your engine compartment make sure that no mechanical damage occurs during its operation. The other purpose your engine oil serves is to clean out your engine. While it circulates through your engine. Your oil picks up harmful contaminants and build up then deposits them in your oil filter.
Oil Filter in Clovis, CA
During every oil change, your oil filter should at the very least be inspected. If your oil filter becomes saturated, it cannot help your oil clean your engine. Not every oil filter is the same and that is why it is important to have your oil changed by a knowledgeable technicians that knows what filter your engine needs. Here at Dick's Automotive we are ready to help you every time you need an oil and filter change.
Our goal is to keep you in a vehicle that is both safe and reliable and it can all start with an oil change. We perform a quick and easy visual inspection every time you bring your vehicle in for any service. From here we can let you know what issues you can anticipate and when they should be addressed before they have a chance to become bigger problems later down the road.
When you drive your vehicle into Dick's Automotive, you can expect a friendly reception from our entire team of dedicated auto repair professionals. Your vehicle is in good hands with us and while we have a lovely waiting room with drinks and snacks, we do everything we can to get you where you need to go. For the fastest oil change service, make an appointment online today! You can find us at 1550 Tollhouse Road in Clovis. We're open Monday through Friday from 7:30 A.M. until 5:00 P.M. See you soon!
Need Help With Your Vehicle?
We'll get it running
We specialize in everything auto repair. We take pride in our work, call us today!
APPOINTMENT
CONTACT US